SP Jonathan Sanchez, SF
pitched seven strong innings of four-hit ball, allowing one run, striking out a season-high 12 while walking none is a 10-2 victory over the Los Angeles Dodgers, propelling the Giants into sole possession of first place in the NL West. Sanchez is now 11-8 with a 3.21 ERA, 1.23 ERA and a 9.58 K/9 ratio. It would be nice to see him take his game over the 15 win/200 K mark in 2011, so expect to pay more than his 2010 ADP of 198.8 to get him next season.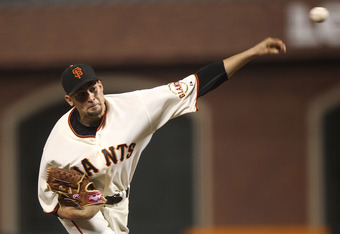 Agree? Disagree?
Nominate your own Line of the Day player using the comments section or hitting me up on
Twitter
.
Like what you see here on COSFBA? Think a friend or family member might enjoy it too? Please use one of the "share" options below to help spread the word about COSFBA. Much appreciated.