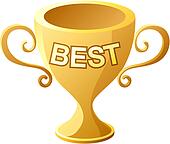 As much as I hemmed and hawed, at times, about not having an audience or much of a following for my writing on this site, 2011 was a great year for a little fantasy baseball blog that wouldn't give up until the bittersweet end.
One of the sites which I used regularly to promote my work and reach a new audience for
COSFBA
was
BallHyped.com
. Well, how surprised was I to learn through an email that they added
COSFBA
to a list of their top-64 sports websites promoted on their site in 2011.
Check out the entire list of blogs here:
http://ballhyped.com/2011/12/18/ballhyped-com-2011-sports-blogs-of-the-year-tournament-participants-announced
Keep an eye out for a link to vote for COSFBA in the tournament soon, too.
As 2011 comes to an end, I sit here reflecting on all I've accomplished and the groundwork I've laid for a very promising future within the fantasy baseball blogging community. Is that pride I feel welling up inside me or heartburn? Who am I kidding? It's definitely heartburn.