SS Troy Tulowitzki, COL
was 4-for-5 with two doubles, a home run, five RBI and two runs scored in a 10-9 win over the San Francisco Giants. Among his four hits were the game-tying double in the bottom of the eighth and game-winning double in the bottom of the 10th. Tulo's September numbers are simply unbelievable: 23 G, .340 BA, .904 SLG, 15 HR, 40 RBI, 26 R. Most players would be pleased with those as "second half" number, let alone a single month's worth.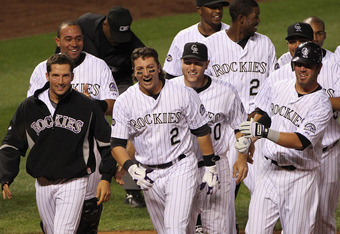 Agree? Disagree?
Nominate your own Line of the Day player using the comments section or hitting me up on
Twitter
.
Like what you see here on COSFBA? Think a friend or family member might enjoy it too? Please use one of the "share" options below to help spread the word about COSFBA. Much appreciated.